Bio
The quintessential California Modernist
Richard Neutra and his search for modern architecture
"[...] the definitive volume on the Viennese-born architect." - Los Angeles Times, Los Angeles
Originally from Vienna,
Richard Neutra
came to America early in his career, settling in California.
His influence on post-war architecture is undisputed
, the sunny climate and rich landscape being particularly suited to his cool, sleek modern style.
Neutra had a keen appreciation for the relationship between people and nature; his trademark plate glass walls and ceilings which turn into deep overhangs have the effect of connecting the indoors with the outdoors. His ability to incorporate technology, aesthetic, science, and nature into his designs brought him to the forefront of Modernist architecture. [source:
http://www.taschen.com/pages/en/catalogue/architecture/all/44807/facts.neutra_complete_works.htm
]
updated March 15, 2013
CONNNELL RESIDENCE :
THREATENED!
We have changed the existence rating of the Connell Residence from 'endangered' to 'threatened' in order to match the rating used by DOCOMOMO-US
per
their 2012 Annual Report (page 13).
Our Petition remains ali

ve...

SIGN IT now
to inform the County of Monterey Planning that you believe demolition should be denied of this local mid-century modern architectural treasure.
Click here for background information.
CURRENT STATUS: This 4,124 SF residence is slated for demolition pending approval by County of Monterey Planning to make room for 12,000 SF new home.
| | | | | |
| --- | --- | --- | --- | --- |
| DATE | ORIGINAL OWNER | ADDRESS | CITY | STATUS |
| 1957-58 | Arthur + Kathleen Connell | 1170 Signal Hill Road | Pebble Beach | ENDANGERED! |
HISTORY
Commissioned by Arthur and Kathleen Connell in the late 1950s. It was completed in 1958. It was sold to another couple in 1985 before it was sold to the current owner in 2004.
Current status photos
from Monterey County HRRB Public Hearing Record
(unknown photographer)
From Neutra – Complete Works by Barbara Lamprecht:
"The two-level Art Connell House exemplifies Neutra's signature trademarks in its careful asymmetric composition of volumes and opposing opaque (stucco) and transparent (glass) planes. Roof planes of disparate sizes, adding visual interest, extend over those areas where protection from the sun is important. In its resolution of volumetric complexity, the house can be favorably compared with the 1957 Sorrells House, Shoshone, and the 1961 Villa Rang, Königstein, Germany."
view from deck
ORIGINAL FLOOR PLAN
below grade floor plan
ground floor plan
PUBLICATIONS FEATURING THIS PROJECT
One of the earliest publications featuring the Connell Residence was in "Richard Neutra: WORLD AND DWELLING" (1962) which was one a comprehensive monogram of his work at the time and while Neutra was still alive .
DAVEY RESIDENCE :

ALTERED BEYOND ORIGINAL
| | | | | |
| --- | --- | --- | --- | --- |
| DATE | ORIGINAL OWNER | ADDRESS | CITY | STATUS |
| 1940 | Bill and Alice Davey | 520 Loma Alta Road | Carmel | ALTERED BEYOND ORIGINAL |
HISTORY
Commissioned in 1939. The Daveys separated shortly after completion. Featured on the cover of Architectural Record, November 1942 – SEE BELOW. The house was destroyed by 1960's owners and replaced.
From Neutra – Complete Works by Barbara Lamprecht:
"Some houses act as pointers to the future: in the two-storey Kraigher House, the Davey House and the Berger House, the sides of the volumes begin to read as independent planes, with roof parapets of different heights to not only hide pitched roofs but to emphasize their independence from each other, as he had done at the Lovell House so emphatically.
What is exceptional about the Davey House is how Neutra integrates his "Southern California" strategies of the 1930s, with strong, simple volumes, with the materials, textures, and colors of the Bay and Carmel areas, with the warm tones of a dark earthy red used for metal trim, fascia, etc. with oiled vertical redwood trim."
ORIGINAL FLOOR PLAN
PUBLICATIONS FEATURING THIS PROJECT
RECOMMENDED MONOGRAMS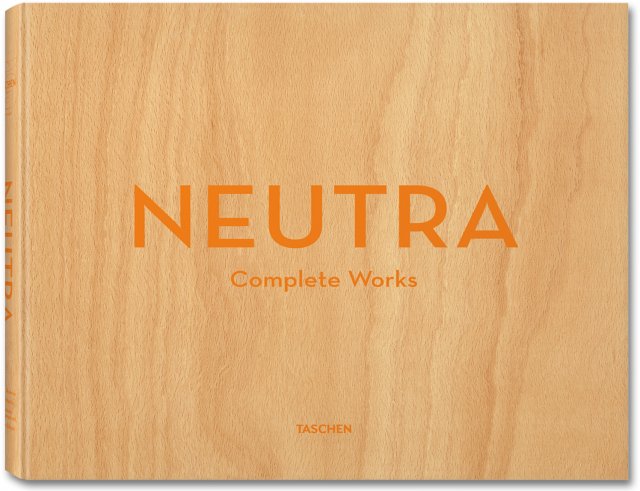 Neutra. Complete Works By Barbara Lamprecht, Peter Gössel
RECOMMENDED LINKS
monterey bay modernism
wishes to thank Barbara Lamprecht for providing us with relevant information and graphics for the two local works of Richard Neutra.